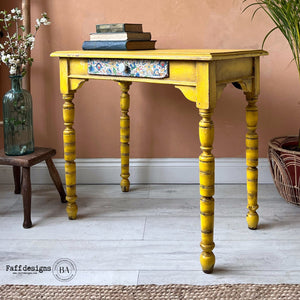 Rustic yellow console table with folk art detail
Sale price Price £295.00 Regular price Unit price / per
Tax included.
Vintage console table painted yellow with folk art detail
Solid wooden console table 
Painted in a rustic, aged yellow clay paint
Single drawer with decoupage detail
Heavily aged and distressed 
Sealed with a durable varnish
Brown wax added for age
Dimensions: 77cm wide, 46cm deep, 71cm high
This vintage console table had plenty of character and evidence of previous life which has been kept and emphasised on this particular piece. It has been painted using an eco friendly clay paint in the colour Daffodil. Several distressing techniques have been used including layering, distressing and crackling to give the impression of aged paint which are all included in the close up photographs. The single drawer has had a folk art design decoupage applied to the front which has also been distressed in keeping with the piece. The drawer interior has been painted in a bright cobalt blue colour to pick out the colour on the drawer front. A single white ceramic handle has been added to the drawer. Further age has been added using brown wax which also adds dimension and tonal variation to the yellow paint. The entire piece has been sealed with a water and heat resistant varnish for durability. 
The dimensions are 77cm wide, 46cm deep, 71cm high
I offer nationwide delivery on all of my pieces. Please see the full information with regards to shipping in the main menu. 
All items are restored with care and using high quality materials but as with all pre-loved furniture, may show signs of age and wear.